MIL and UiA are two of the Future Materials members and cover, together with Elkem Technology and ReSiTec, the entire value chain from raw materials to finished components.
GCE NODE want to contribute to a continuous improvement of the competitive position for its members and Future Materials has some of the tools needed for solving production challenges of complex components and develop new materials more fitted for new or challenges markets. A close cooperation along the value chain is, therefore, believed to give comparative advantages for the member companies.
The most common way to prepare a company for the future is through development programs with customers and R&D institutions. Through binary projects between company and catapult, and industry projects where several companies, universities, research institutes etc. participates, a wide specter of development tasks can be solved effectively. In this picture we hope to establish a close relationship between GCE NODE members and Future Materials.
The focus at this workshop is 3D printing, and specialists from the Gjøvik environment and UiA will participate. As the workshop will take place at Elkem Technology in Kristiansand, a tour will be arranged to show the services offered by Future Materials at the Elkem site. It is also an opportunity for the participants to present their own status and challenges. A 5 minutes presentation of each company is therefore appreciated.
WELCOME TO THE WORKSHOP!
Program: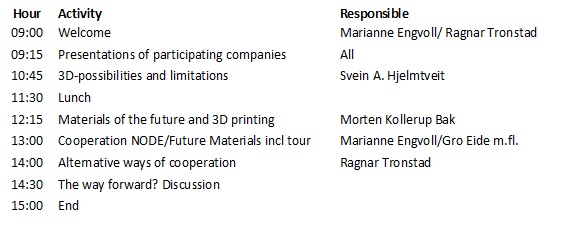 For further information call +47 906 35 191 or send a mail to ragnar@gcenode.no.
SPEAKERS:
Morten Kollerup Bak is responsible for 3D printing at Mechatronics Innovation Lab.
Gro Eide is Director for Elkem Technology Pilot Center
Ragnar Tronstad is a former Director for R&D at Elkem.
Svein A Hjelmtveit was until recently Lab Manager at the Norwegian University of Science and Technology. He is currently CTO at Nordic Additive Manufacturing.
Marianne Engvoll is Research, Development and Innovation Manager at GCE NODE.