Both GCE NODE companies and others are invited to apply for offering of course modules in ELBE Eurocluster project work package 4, which GCE NODE is responsible for.
Project Alliance: http://www.elbealliance.eu/home
Project Name: ELBE Eurocluster: Supporting the Offshore Renewable Energy (ORE) sector
Work Package WP4: Train & Adopt
WP4 Delivery: Training of 20 SMEs from different European countries. These companies will select one or more course modules, freely chosen among the five modules described in the table below.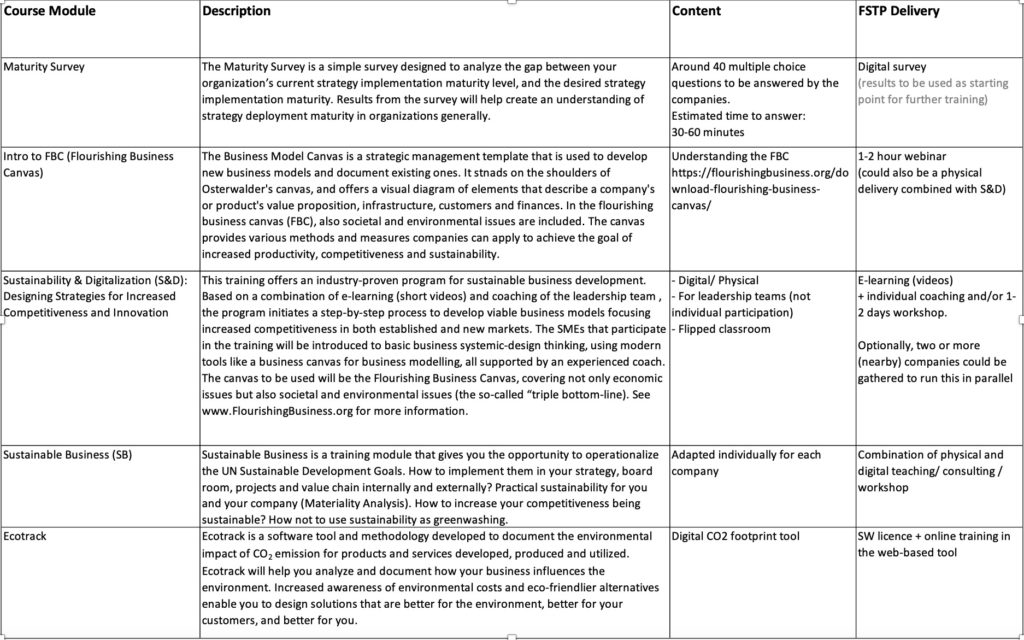 If your company is interested in delivering one or more of these course modules, please contact GCE NODE as soon as possible, and latest September 15th, 2023.
Total budget for delivery of all modules in WP4 is around €270 000.
The preferred vendors will be the ones which is deemed by GCE NODE to offer the best training within the available budget.
Please note that according to EU rules for this project, the 20 SMEs will in the end be free to use their FSTPs ("vouchers") to buy services from the preferred vendors or from other vendors.
The supplier for the three first course modules in the table should have extensive knowledge and experience in running a Maturity Survey, detailed knowledge in using the Flourishing Business Canvas for business modelling, and existing e-learning (videos) and practical experience in training of companies from different countries and cultures.
The supplier for the Sustainable Business course module should have practical experience, and preferably also existing training module(s), in understanding the UN Sustainable Development Goals and assisting companies in running a Materiality Analysis.
The EcoTrack software tool for calculation of CO2-emissions for products and services is mentioned in the ELBE Eurocluster contract. Hence, this course module has to be oriented specifically towards the EcoTrack software tool.
The delivery of the course modules to the SMEs will be in two rounds (10 SMEs in each round). First round is planned to be in Q1-2024, and the second round is planned in end of 2024 (or 2025). However, this schedule may be changed.
We look forward to receiving your interest. Should you require any additional information or have any questions, please do not hesitate to contact Tom Fidjeland (phone: +47 915 78 490) or Jan Helge Viste (phone: +47 909 25 977).