"For the long term, lower costs for renewables will fuel the green transition. Solar and onshore wind are already profitable in most countries and costs will continue to drop," says Christian Rynning-Tønnessen.
The CEO of Statkraft was one of the main speakers at the Techpoint Global Impact conference in Kristiansand Thursday. He addressed the topic of profitability in renewables, which is widely debated as costs increase and offshore wind projects are cancelled.
"Offshore wind currently comes at a higher cost and requires subsidies in all markets, but this will change. We expect massive growth in both bottom-fixed and floating offshore wind in decades to come," said Rynning-Tønnessen.
Citing the climate crisis as the main driver for the green transition, Rynning-Tønnessen reminded the audience that 80 per cent of the world's energy stems from oil, gas, and coal. Statkraft expects global energy production to double by 2050 – from less than 30,000 TWh to more than 60,000 TWh.
"We will see an extreme increase in renewable energy production. Gas will remain an important source of energy to balance a market dominated by intermittent energy, such as solar and wind. However, the total output of fossil energy will be halved by 2050," said Rynning-Tønnessen.
He pointed out that the world needs to build more energy production capacity and more energy infrastructure between now and 2050, than has been built till now.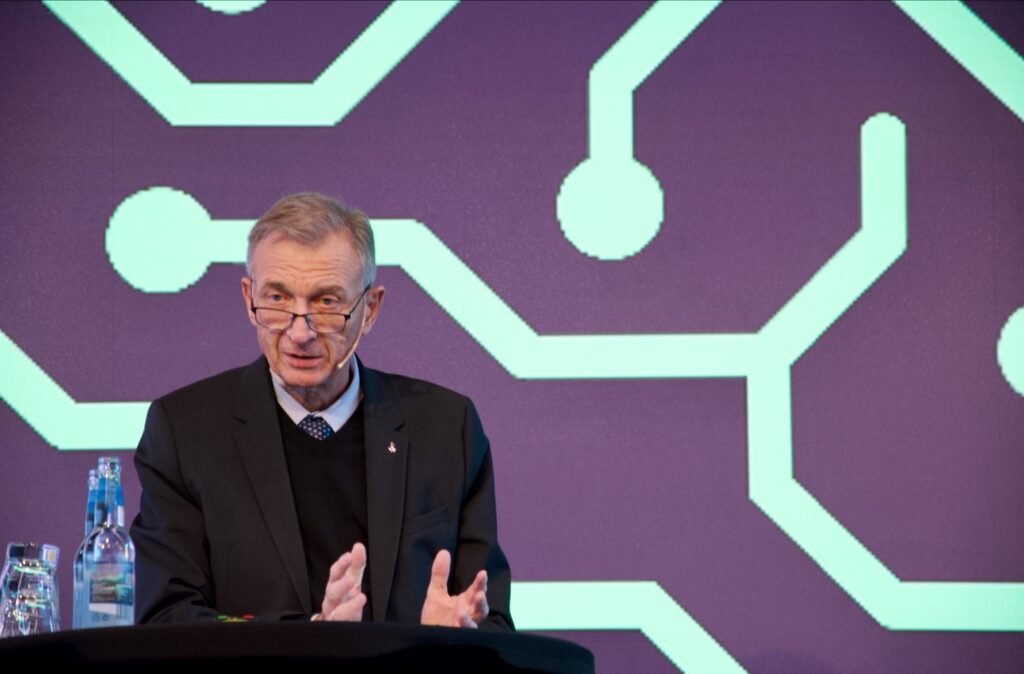 EQUINOR AND THE ENERGY TRILEMMA
Jon Erik Reinhardsen, Chairman of the Board Directors of Equinor, presented the Energy Trilemma, which addresses three often conflicting challenges; to provide energy affordability, stability, and sustainability.
"Our goal is to contribute to the energy transition, to energy security, and to energy affordability. We need to succeed in all three dimensions," said Reinhardsen.
Equinor has ambitious targets for emissions reduction on the Norwegian Continental Shelf: 50 per cent reduction by 2030, 70 per cent reduction by 2040, and 'close to zero' emissions in 2050.
"Electrification of oil and gas installations is the most important short-term measure," said Reinhardsen.
By 2030, half of Equinor's investments will be in renewables and low carbon solutions.
"Today, several of our renewable projects are not profitable. Still, we believe in the long-term opportunities within renewables, and in particular within offshore wind. Demand for electricity will increase dramatically because of decarbonization and emerging industries," said Reinhardsen.
Global Impact is a full-day event on day two of the Techpoint conference in Kristiansand. Global Impact is presented by GCE NODE, Business Region Kristiansand, The City of Kristiansand, Eyde Cluster, Offshore Norge, the Kristiansand Chamber of Commerce, and Sparebanken Sør.