This is the general purpose of the pilot course Oil2Fish developed by GCE NODE, The Research Institute for Water and the Environment (NIVA), and Innakva KLYNGE.
"The oil and gas supplier industry has a lot to offer other ocean-based industries. By transferring more domain competence and insight into the technological challenges within aquaculture, we enable oil and gas engineers to understand the industry and hopefully provide innovative solutions," says Christian von der Ohe, RD&I Manager at GCE NODE.
37 participants from 15 GCE NODE and Innakva KLYNGE companies take part in the pilot which concludes this month.
Nekkar, CSUB and National Oilwell Varco – three GCE NODE companies that are already invested in aquaculture – hosted the first sessions. Last week, the group visited three aquaculture locations in the west region of Agder last week.
During visits to Korshavn havbruk, Hausvik industrial area (Innakva Lab, EcoFishCircle/Gas2Feed and Norsk Oppdrettsservice), and Stolt Seafarm Turbot Norway, the participants were introduced to production facilities and challenges and opportunities faced by the aquaculture industry.
"These visits served as eye-openers. Some of the engineers immediately contributed with ideas for improvements," says von der Ohe.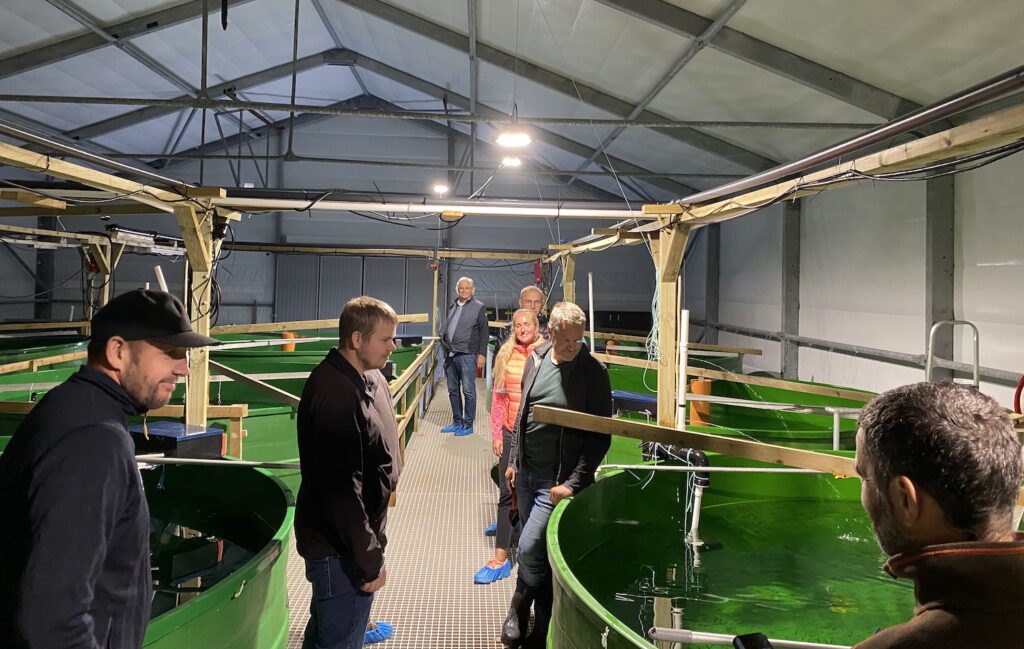 INSPIRED AT CONFERENCE
Erlend Moksness and von der Ohe were inspired to making the Oil2Fish course after a debate during the 2021 Aquaculture Conference in Kristiansand.
"We are pleased to have the pilot up and running. Based on feedback from the participant, we will make necessary adjustments and offer a future full-blown continued education course to the industry and academia in our region, as well as other regions," says Moksness.
"The intention with this educational program is to create a foundation for innovation and technology transfer to the important global aquaculture industry, which is predicted to grow enormously to meet future needs for healthy and sustainable proteins. Having experienced aquaculture players and researchers explain the basis for good fish health and welfare is crucial.," says von der Ohe.
Lecturers at the course are Erlend Moksness (GCE NODE) and Federico Håland Gaeta, Erik Høglund, and Øyvind Tangen Ødegaard (all NIVA).
As project owner, GCE NODE is represented by von der Ohe, Moksness, and Jan Helge Viste. Hilde Cecilie Trannum (Regional Manager at NIVA) and Jon Løvland (General Manager at Innakva KLYNGE) have contributed to the pilot.
Oil2Fish is funded by Blått kompetansesenter sør (BKS) and GCE NODE.