"We are a company with a true global footprint based on a Norwegian heritage and a blue-chip customer base. We may be third in size, but we believe we are first in quality," says Jon Are Gummedal, Managing Director at OSM Maritime.
This week, he gave a presentation at a GCE NODE breakfast meeting in Arendal.
OSM Maritime Group and Thome Group have agreed to a merger of the two companies. The combined company will be named OSM Thome.
Both OSM Maritime and Thome are deeply rooted in the Norwegian shipping tradition and expertise, and they combine this with the modern drive of Asian business enterprise. The headquarters of the combined company will be located in Arendal, Norway, with strong technical management hubs maintained in Singapore and Europe.
Together, the two companies have a total of 31,000 employees, whereof 2,000 onshore in 22 countries. They manage 1,000 ships, whereof 450 ships on full technical management, and 550 ships on crew management. Many of the world's leading shipping companies are customers of OSM and Thome, and the fleet consists of different segments such as tank, bulk, container, car carriers, cruise ships and offshore vessels and units.
OSM Maritime's CEO Finn Amund Norbye will assume the role of CEO for the merged OSM Thome, while Thome's CEO, Olav Nortun, will take up the position of COO for the consolidated ship management activities. OSM founder Bjørn Tore Larsen will become Chairman of the new Board of Directors and Thome's Claes Eek Thorstensen will be the Vice Chairman.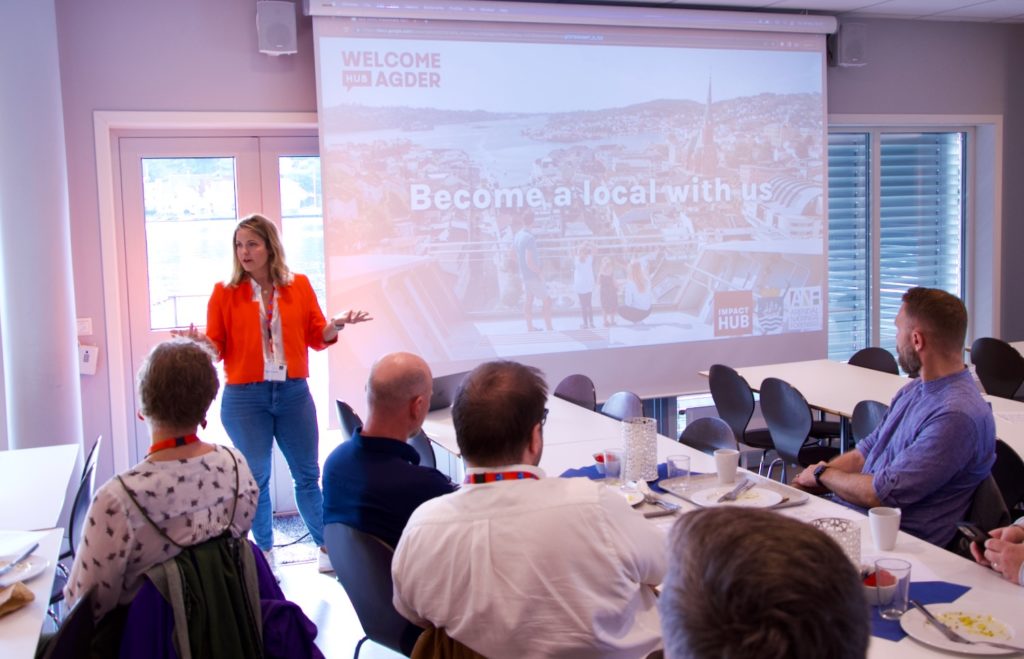 WELCOME HUB AGDER
Following the OSM presentation at the breakfast meeting, Megan Strand took the stage to talk about Welcome Hub Agder, an organization that welcomes international talent and their families, supporting them to live good lives in Agder.
"Agder needs international competence in the coming years. But settling as a newcomer in Agder can be challenging. Our goal is to drastically increase the chance that newcomers will thrive, contribute, and stay for the long-term – becoming ambassadors for the region," says Strand.
Studies show that what prolongs the stay is job opportunities for the spouse, social networks, and language skills.
Initiated by Impact Hub Agder, Arendal Municipality and Arendal Chamber of Commerce, Welcome Hub Agder offers onboarding programs, which include focus on family services, social networks, and Norwegian system support.